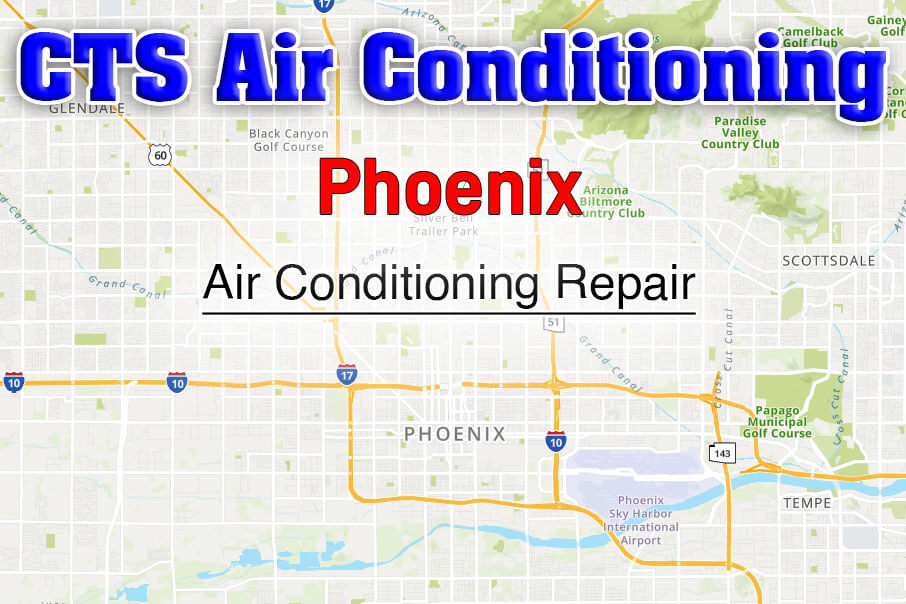 Phoenix Air Conditioning Repair Service
CTS Air Conditioning provides professional Air Conditioning repair service to the Phoenix Metropolitan area. Are you looking for air conditioning service near Phoenix Arizona? We dispatch trained and certified technicians who have years of experience in the HVAC industry. We have excellent reviews and will handle your job with courtesy and professionalism. We provide 24 hour emergency air conditioning repair service outside of our normal business hours. Call us anytime day or night. Experience our quality workmanship that is backed with a 2 year guarantee for every repair that we do. CTS Air Conditioning is a fully licensed, bonded and insured HVAC repair contractor for Phoenix AZ. We do both residential and commercial HVAC jobs. Contact us today for a job done right!
What To Expect From Your Phoenix Heating and Air Conditioning Repair Technician
On Time. Our certified Air Conditioning repair technicians will show up to your home at the scheduled time.
Courteous. Technicians and staff are friendly and will always address any concern and answer any question in a respectful manor.
Honest and thorough Phoenix air conditioning repair work.  We pride ourselves on a repair job done right the first time.  Your A/C system is inspected and all issues are brought to your attention.
Electrical inspection.  Air Conditioning electrical components such as the capacitor, contactor, and motors are measured for proper current and voltage, and looked at for correct operation.
Condensate drain inspection.  The PVC drain line checked for correct routing and verified to be free of any blockages.
Examination of the air filter.  One of the leading causes of air conditioning repair in Phoenix is due to dirty air filters.
Verification of system cleanliness. If the air conditioner is older or has not been well maintained then coils and air ducts may need to be cleaned.
Thermostat inspection.  Dust can shorten the life of you air conditioners thermostat.  Low batteries can also cause strange behavior.
Diagnostic checkup.  We want to earn your business with our thorough inspection practices. All aspects of your A/C system are verified for proper operation and documented for your review.
Why CTS Air Conditioning and Heating is the Phoenix Air Conditioning Repair Contractor For You
We work hard to earn your business and your trust.  When a your home's AC unit stops blowing cool air we make you a priority.  We do everything possible to get a technician to you as soon as possible.  Your HVAC system will be analyzed and you will be presented with options and pricing before any work is completed.  Our vehicles are fully stocked with a variety of parts and in most cases we can get your unit functioning on our initial visit.  We are licensed with the AZ ROC for residential and commercial work.  We are competitive and have very affordable pricing to meet your service needs.  CTS has formed partnerships with some of the top air conditioner brands which allows us to offer credible and affordable repairs and replacements.
Emergency Air Conditioning Repair / HVAC Repair in Phoenix
Your central air conditioning system can fail at any moment.  A large variety of problems can take your unit offline.  CTS Air Conditioning and Heating has you covered both day and night.  Call our 24 hour emergency air conditioning repair service at 480-696-5033.  We will be on the way to fix your broken air conditioner and get you and your family comfortable again.
My Air Conditioner Is Broke, How Can I fix it?
If you have a technical background and are planning to attempt a repair yourself checkout our Air conditioning repair page.  You can find troubleshooting techniques and repairs for many different issues such as those listed below.
Common Issues With Air Conditioners in Phoenix AZ
Air Conditioning systems work especially hard in the Phoenix heat and will eventually breakdown.  We see many different problems with A/C systems in Phoenix AZ.
Bad Start Or Run Capacitor
Start Relay
Dirty Air Filters and Evaporator Coils
Condenser Fan Will Not Run
AC Unit Will Not Run
AC Unit Low On Refrigerant
Best Air Conditioning Repair Company In Phoenix
CTS Air Conditioning and Heating technicians are trained and certified for Phoenix air conditioning repair work.  We also have some of the most competitive prices you can find from a licensed contractor.  We service all brands of Commercial and Residential HVAC systems and also provide Emergency AC Repair Service.  We Warranty All Phoenix Air Conditioning Repair Jobs to be reliable for a minimum of 1 year from the date of repair.  Search for Phoenix air conditioning repair reviews online and look at our ratings.
Phoenix Air Conditioning Repair Agreement
When you sign up for our service / maintenance agreement you can rest easy knowing that should your HVAC system fail for any reason we will be there to make it operational.  Our Air conditioning Phoenix based support team will make you top priority.  We also provide a regular diagnostic checkup of your air conditioner.  Your A/C system is charged with refrigerant, filters are cleaned or replaced, and the system is inspected to ensure your comfort throughout the season.  We are your honest and reliable first choice for Phoenix air conditioning repair and maintenance!
Quality Air Conditioning Parts Are Used On All Repairs
Since 2001 we have been doing Phoenix air conditioning repair and installations.  Our business is built on knowledge, exemplary service and a quality line up of ac replacement parts.  Our customers have given us 5 star reviews and testimonials for the jobs we have done.  We have NATE certified technicians who train to become experts on residential and commercial air conditioning systems in the Maricopa county area.  The replacement parts we use have been proven to last and we trust them as reliable options for you central ac system.  If you need air conditioning replacement parts in Phoenix AZ, give us a call.
Residential and Commercial Repair Work
CTS Air Conditioning and Heating provides both residential and commercial air conditioning repair and replacement service to Phoenix Arizona and it's suburbs. We run a top of the line HVAC service company.  CTS provides repair, replacement, and maintenance to all brands of heaters and air conditioners.  Every job is  given careful attention and quality control. When a Phoenix air conditioning repair or replacement is necessary call us and let us show you our professional workmanship and great product line.
Licensing for A/C repair in Phoenix
The Arizona Registrar of Contractors requires HVAC contractors to hold a license before work can be performed.   Requirements consist of a minimum of 4 years experience working in the field and passing the licensing examinations.  HVAC contractors must also put up a bond based of projected income.
Find an Honest Company for AC repair in Phoenix
At CTS Air Conditioning and Heating we are always 100 percent honest with your job.  When it comes to air conditioner repair in Phoenix, AZ you can't be too careful who you choose.  There are many scams in the Phoenix air conditioning business.  CTS owners and employees give your job special care and attention to make sure it's done right.  We never try to push repairs on you that are not necessary, or try to sell you a new AC unit when a simple fix is all that you need.  We try hard to keep expenses to a minimum.  We want to be known as the best air conditioning company in town for Phoenix air conditioner repair and sales.
Factory Authorized Dealer For Phoenix AC Repair
We work with Lennox, American Standard, and Goodman. These air conditioning manufactures are among the best in the business. Having an excellent team of vendors has played a major role in keeping us successful as a Phoenix, Arizona air conditioning service. These manufactures supply top rated HVAC products to the Phoenix area.  We have met the strict requirements they demand to service their heating and cooling equipment. We have a good relationship with them and can get excellent pricing on their equipment. We always pass the savings to our customers. Call us for a free estimate for a new heating or cooling system installation or if you need Phoenix air conditioner repair work done right.
About Phoenix AZ
Phoenix Arizona is known for it's scorching summers with temperatures consistently soaring to 115 degrees or higher. Phoenix Arizona is also home to the Arizona Diamondbacks Baseball Team and Arizona Cardinals Football Team. Phoenix was settled in 1867 and in the early 1930s got it's nickname "The Valley Of The Sun".
Air conditioning repair in Phoenix Arizona is common because of the hot temperatures.  CTS Air Conditioning and Heating is a fully insured, licensed, and bonded Phoenix air conditioning repair company that believes in putting our customers first.  When you think of Phoenix Air Conditioning Repair, think of Us!